Best Metal Alloys and Plastic Materials for the Medical Industry
Posted on July 26, 2022 by Boston Centerless
The medical device industry offers a diverse range of products covering everything from artificial joints to diagnostic devices and much more. Across all these medical applications, engineers must decide which material is best for their specific use. This can sometimes be difficult because there can be many different metal alloy and plastic materials to choose from.
Medical device prototypes and parts can be manufactured using a variety of methods including CNC Swiss machining, injection molding, and 3D printing. CNC Swiss machining is advantageous because it offers tight tolerances, the ability for lots of customization, and smooth surface finishes. However, no matter what manufacturing method you are considering for your next medical device project, it's important to carefully consider what materials are optimal for your application. Typically, medical industry materials need to be moisture and corrosion resistant, easily sterilized, durable, and strong. Let's take a closer look at the more common metal alloys and plastics used in the medical industry today.
Metal Alloys Commonly Used in the Medical Industry
The best machinable metal alloys for the medical industry offer corrosion resistance and the ability to withstand rigorous sterilization. Stainless steels are very common because they do not easily corrode, have low magnetic properties, and are quite machinable. Some grades of stainless steel can be heat treated even more to increase hardness. Moreover, materials such as titanium offer high strength-to-weight ratios that are ideal for handheld, wearable, and medical implant applications.
316/L Stainless Steel is extremely corrosion-resistant and is commonly used for medical devices.
304 Stainless Steel is also popular for medical applications because it offers both machinability and corrosion resistance, but it can't be heat treated in order to make it harder. If your application needs to be harder than 304, consider Stainless Steel 18-8.
15-5 Stainless Steel is comparable to 304 when it comes to corrosion resistance. However, 15-5 is superior to 304 when it comes to machinability and hardness.
17-4 Stainless Steel offers excellent strength because it can be easily heat treated. 17-4 also provides excellent corrosion protection. For these reasons, 17-4 is commonly used to manufacture medical equipment.
Titanium Grade 2 is a pure, non-alloy material. It offers excellent strength, low weight, and high thermal conductivity, which makes it a great option for dental implants.
Titanium Grade 5 offers an excellent strength-to-weight ratio, which is bolstered by the high aluminum content in Ti-6Al-4V. Grade 5 is the most commonly used titanium because it provides good formability and corrosion protection for applications such as medical screws.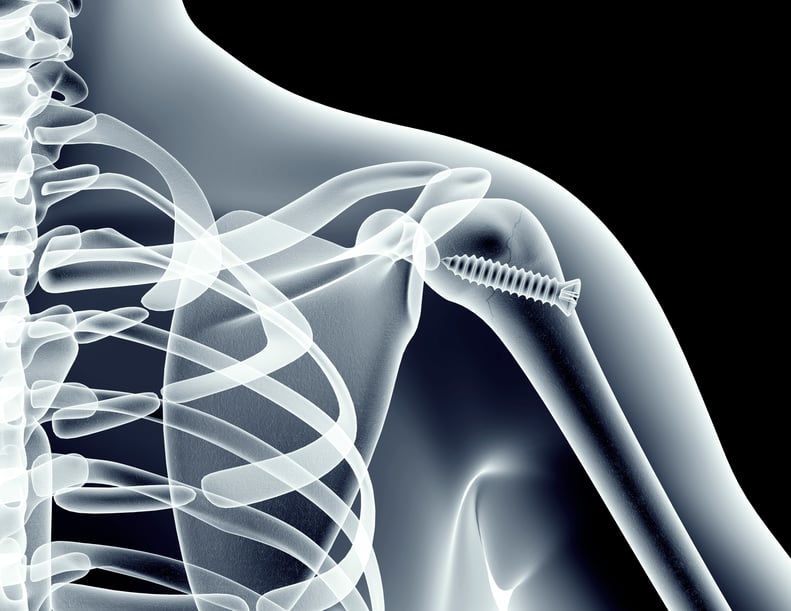 Plastics Commonly Used in the Medical Industry
In addition to stainless steel and titanium alloys, plastic is another type of material that is used in medical applications. These plastics are advantageous for medical applications because they have desirable thermal properties, and they also have very low levels of moisture absorption. Moreover, many plastics can be sterilized via autoclave, gamma, or ethylene oxide methods. Finally, plastics are beneficial for the medical industry because they offer smooth surface finishes and low friction. Specific applications of plastics in the medical industry include indirect and direct contact housings, guides, and fixtures. Additionally, plastics can serve as substitutes for metals when radio frequency (RF) or magnetism would interfere with diagnostic abilities.
Delrin (Acetal) provides moisture-resistance, durability, and low friction.
Polycarbonate (PC) is advantageous because it offers nearly twice the tensile strength of ABS, which gives it excellent structural and mechanical properties. For these reasons PC is great for medical applications that demand stability and durability.
PEEK also provides high tensile strength and is very lightweight. PEEK is also durable, as well as moisture and chemically resistant.
UHMW PE is a versatile material that provides an excellent blend of durability and corrosion resistance. Moreover, it offers smooth surface finishes, as well as moisture resistance.
PTFE (Teflon) is a superior plastic when it comes to heat and chemical resistance. Additionally, it is a great electrical insulator.
Polypropylene (PP) is notable because it doesn't absorb much moisture at all, and it has advantageous electrical properties. PP can carry light loads for long periods of time under wide-ranging temperatures. Moreover, it can be machined for parts that demand corrosion resistance.
Garolite G-10 is made of an epoxy resin with fiberglass fabric reinforcement. This material is moisture resistant and very strong. CNC machined Garolite G-10 can be utilized as a substitute for metal when a part cannot be magnetic.
Planning your next medical device project? Take advantage of our BC Medical Grade materials to produce world-class components such as implants, instruments, and fixation devices.
Contact our medical device experts at Boston Centerless to learn more about how our focus on quality and consistency of product ensures trouble-free production for our customers!