SwissAssist: CNC Swiss Machine Training
Posted on July 19, 2022 by Boston Centerless
You may be hearing more and more talk these days about the benefits of CNC Swiss machining. There's no doubt that CNC Swiss machining is a great option for many high precision and high production parts projects. The challenge for many CNC machine shops is finding skilled operators for their Swiss machines or training their current staff to become competent on this game-changing technology.
For machine shops that are able to attain the skills necessary to operate CNC Swiss machines, the opportunity is created for a wide variety of applications including parts for aerospace, medical instruments and implants, and much more. In this article, we take a closer look at what CNC Swiss machining is, a few beginner tips for operating CNC Swiss machines, and the industry leading SwissAssist™ training program for CNC Swiss machining from Boston Centerless.
What is a CNC Swiss Machine?
Swiss machines were first developed for manufacturing timepieces. Since that time, CNC Swiss machines have become popular in the broader manufacturing industry because of their ability to produce parts with a high degree of precision. In particular, CNC Swiss machines are an excellent option for manufacturing complex parts quickly and efficiently. This combination of high output and high precision have made Swiss machines an integral technology for many CNC machine shops that manufacture high volumes of small parts requiring tight tolerances.
A CNC Swiss machine is also sometimes called a Swiss automatic lathe or a Swiss-type lathe. Swiss machines feed the bar stock through a guide bushing, which provides support as it enters the tooling area. A notable feature of Swiss machines is that only the part of the bar stock being machined is in the tooling area. As a result, the material is firmly held, which allows for greater stability and, thus, precision.
The workpieces rotate in a fixed position while being held on one or both ends in standard CNC machining. In CNC Swiss machining, workpieces turn and also move forwards and backwards on the Z-axis while being cut. Additionally, while standard CNC machines usually do one operation at a time, CNC Swiss machines do multiple operations at the same time in different zones. It's also important to note that CNC Swiss machines are not limited to only turned piece—they can also manufacture parts that don't have any turned surfaces.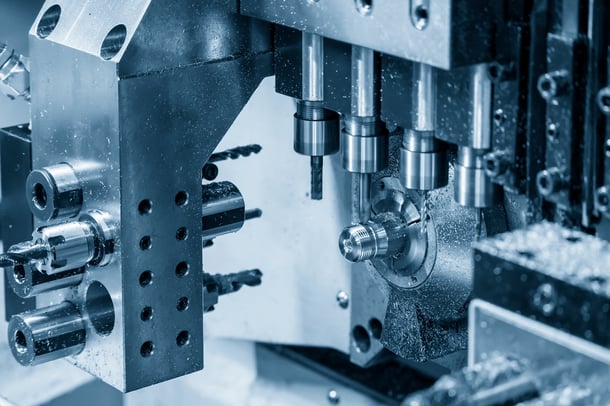 Beginner Tips for Operating CNC Swiss Machines
Swiss machines are highly sophisticated CNC machines that require specialized training to operate. To become a competent Swiss machine operator, you will need comprehensive training. The SwissAssist program offered by Boston Centerless provides in-depth training that involves CAD/CAM, set-up and operation. While this article obviously can't cover all the subject matter necessary for proper Swiss training, here are a few beginner tips that will help you as you start to learn more about CNC Swiss machining:
Be sure to measure a bar before placing it in the feeder. This is an important step so that you can be aware of any deviations in the diameters of the bars. If a deviation is present in the diameter of a bar, you will need to adjust the guide bushing to ensure adequate support is still provided to avoid higher runout and concentricity errors.
It's important to understand the difference between the guide bushing and the headstock collet. The revolving collet is tighter for gripping the bar as the sliding headstock moves in and out, but the guide bushing is kept somewhat loose so that the bar can pass through yet still not compromising the support the bar needs near the cutting point.
Managing coolant lines is critically important in CNC Swiss machining. When a new job is getting started on the CNC Swiss machine, you should carefully observe whether the coolant is going to the correct location and if the chips are being moved away properly. If coolant lines are not managed effectively, problems could arise such as tool breakage and unsatisfactory surface finishes.
Does your team need world-class training in CNC Swiss machining? Our SwissAssist program is the industry leader in CNC Swiss machine training.
Contact the Swiss experts at Boston Centerless to learn more about how we can train your team and ensure competency at every level of CNC Swiss machining!

Boston Centerless is the Industry Leader in CNC Swiss Machine Training
CNC Swiss machining is being rapidly adopted by many top CNC machine shops around the United States. One of the biggest challenges to entering Swiss machining is the lack of skilled operators to run the Swiss machines. At Boston Centerless, we've developed an industry-leading CNC Swiss machining training program called SwissAssist. Our SwissAssist program provides CNC machine operators with next-generation PartMaker SwissCam training, as well as CNC Swiss machine training.
Boston Centerless provides world-class PartMaker CAD/CAM training at your facility using your machines and prints so that your CNC machine operators can develop hands-on experience in a production environment. Our PartMaker SwissCam training is designed for new users to the platform, as well as operators that already have some experience and want to build on that foundation at a deeper level. Moreover, our SwissAssist program offers comprehensive training ranging from basic Swiss machining principles all the way to the most complex Swiss machining processes including thread whirling, helical milling, polar milling, and much more.
Our CNC Swiss machine training provides your team with everything they need to execute the most complex Swiss machining projects in the world. Plus, we stay up to date on all the latest innovations in the CNC Swiss machining field and we help you translate these upgrades into your Swiss machining operations, as well as maintain the workability of your CNC Swiss machines.