Why Manufacturers Choose Precision Ground Bars
Posted on May 25, 2022 by Boston Centerless
To remain competitive, manufacturers are under constant pressure to reduce production costs without sacrificing quality. Additionally, the demand for products with tighter tolerances continues to grow, increasing the complexity of machining operations. To address these challenges, manufacturers often search for materials that will improve productivity and quality. One way to increase productivity is by utilizing precision ground round bars. Today's advanced CNC Swiss machines can realize significant productivity gains when the bar stock is precision ground – leading to faster speed to market and reductions in material and labor costs.
Not all suppliers offer the same quality of precision ground bars, however. For this reason, it is imperative that manufacturers partner with a proven supplier, like Boston Centerless, that has 60+ years of experience and is an industry leader in precision bar and grinding services. The team at Boston Centerless supply precision ground materials to industries worldwide that manufacture products such as medical implants, fuel injection seat guides, and aerospace valves.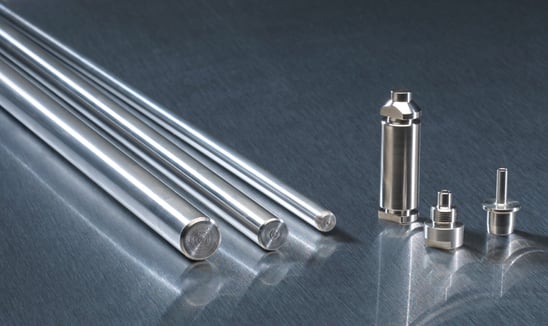 With hundreds of years of combined experience, Boston Centerless truly understands the needs of our customers. We also recognize that the dimensional aspects of ground bar such as roundness and straightness can be as critical, if not more critical, than the diameter tolerances. Our team serves a variety of sectors and supplies AccuRod® Precision Bar, the most consistently round, straight, and close tolerance bar on the market. Below are some key reasons why manufacturers choose our precision ground round bars over the competition.
Higher Production Rates

: simply put, precision ground bars are made of superb raw materials. The team at Boston Centerless source material that has superior machinability characteristics from only the highest quality mills and apply our grinding expertise which results in superior straightness and consistent dimensional tolerances. But how do these superior materials lead to efficiency gains and improved production rates? Vibration is a key element in

CNC Swiss machine

operation and is closely monitored to ensure machine health. Due to the consistency in straightness and roundness of Boston Centerless' precision ground bars, CNC machines that use these bars have less vibration, enabling increased feeds and speeds – resulting in productivity and production gains. These efficiencies lead to shorter cycle times and faster speed to market – a huge advantage for manufacturers.





Less Waste Generation and Higher Material Yields

: one of the cost savings associated with precision ground bars is the reduction in waste. Precision ground bars with an optimal surface finish will reduce friction and have fewer surface defects. Manufacturers that utilize precision ground bars "get it right" the first time – minimizing potential for defective or out-of-spec parts and increasing material yields. This also leads to less scrap and waste generation, saving the cost of labor and materials and the time associated with rework.
Maximize Equipment and Skilled Labor:

Skilled operators and CNC machines are both significant investments so it benefits manufacturers to maximize their utilization. P

recision ground bars enable operators to run multiple machines at once - or even unattended - offering the opportunity for

lights-out manufacturing

without concern for quality issues

. In addition, due to less vibration and wear and tear on the machine, the use of p

recision ground bars leads to increased equipment and tool life as well as increased uptime.
Could your team benefit from the unsurpassed roundness and straightness of
precision ground bars?
Contact Boston Centerless to learn more about our AccuRod® Precision Bar
and other manufacturing solutions.
Enhanced Product Quality:

the unparalleled consistency of diameter, roundness, and straightness of AccuRod precision ground bars enhances the quality of the final product. CNC Swiss machines that operate with precision ground bars are less prone to product variations and deliver higher quality components consistently.





Gain Customer Loyalty and Lower Risk:

as noted above, precision ground bars offer a higher level of quality and reproducibility. A manufacturer that has a high level of production quality and repeatability is able to deliver consistent products to customers – becoming a trusted partner. When your products meet or exceed expectations and specifications, you get repeat business. Customer loyalty and a long-term partnership benefits both the supplier and the customer. The customer gains reliability within their supply chain; the supplier receives a steady influx of projects and referrals and gains a more positive brand reputation – and a lower cost of customer acquisition which directly impacts the bottom line and provides a competitive advantage. Finally, manufacturers that use high quality materials are less likely to have quality incidents such as recalls or part failures – reducing the level of risk across the supply chain. For these reasons, manufacturers choose precision ground bars over the competition.
About Boston Centerless
Boston Centerless provides solutions that enhance our customer's manufacturing processes. With over 60 years of experience, we grind the tightest tolerances in the industry. When we were established, we were primarily a centerless grinding company, and over time we expanded our offerings to include manufacturing and distribution of precision raw materials and material preparation services.
We are a fully integrated product and service provider that can assist you with material selection, procurement, grinding, material testing and validation, customized inventory programs and supply chain management. Since we can procure and grind your material, we serve as your "one-stop shop" – saving time and money, and reducing risk, across your supply chain. We have proven experience with an extensive range of materials, and our manufacturing solutions include:
Contact us today at (781) 994-5000 to see how we can help with your next project, or click here for a quote.