Transforming Business to Deliver "Instant Gratification" to Customers
Posted on September 14, 2020 by Francois Gau
The Challenge
Let's admit it. As consumers, we're conditioned to expect "Instant Gratification." We go online and can purchase, usually in seconds, almost anything without talking to anyone. We know immediately if the item is in stock, what the price is and what else we may need to assemble or use the item. Some websites even give us educational videos on how their products work.
This phenomenon is not new. It started in 2005 with the arrival of the "Digital Era" that put powerful tech gadgets (smart phones, tablets, laptops) in our hands, and made web connectivity faster and ubiquitous.
In the Digital Era, even complex and expensive decisions such as remodeling or buying a home are made simpler because it's easy to conduct research online. Some observers of consumer behavior contend that most of us have enough information before calling or hitting the "Buy" button.
In survey after survey, we have discovered that our customers would like the same from us in their B2B purchasing experiences. Yes, I too have heard that we're unique, too complex and need to talk frequently with the customer to "get that part done right." To see what I mean, go to almost any industrial website and try to find a "Buy" button. Best in class right now is "fill out a form, and someone will get back to you soon." That approach won't work over the long term.
Before we delve deeper, let's address the demographics of our supply chains. Have you noticed a change in the mindsets of the people you interact with? It started way before the pandemic. Let's look at some stats to explain what's happening right now. Did you know that:
Millennials (24-39 yrs. old) now account for over a third of third of the U.S. labor force?
Gen Zers (18-23 yrs. old) have started working, making up 5% of the labor force?
Chances are that some of your trusted buyers have retired or are about to do so, have been promoted or have left for other ventures. The questions you should be asking are "Who is replacing them?" and "What does this trend mean to us?"
If you've had experience working with the next generation of buyers, you probably know the answer: Our approach must radically change going forward. If buyers can't find us and get their information the way they want it, we're out of the picture from the start. Face to face interactions, including traditional sales calls, are not going to cut it anymore.
This chart explains what's happening:

"Digital natives" – an increasing percentage of today's industrial buyers -- are fiercely independent in their research, use social media to validate or substitute for dated websites, use mobile devices and don't want to be called unless they request it! Institutional knowledge possessed by "tribes of elders" is being replaced by social media-based "street smarts" of buyers asking their peers and friends about their experiences with vendors.
How do we stay relevant?
At Boston Centerless, we leveraged the relative slowness during the pandemic to address these trends head on. We realized that we had a good brand presence, a reputation for quality, an excellent team, and technology and processes in place to serve our customers by going beyond what's traditionally been possible. What we also realized is that our front-end systems needed a boost.
At a National Tooling and Machining Association (NTMA) conference more than a year ago, we learned that we could start by overhauling our quoting system. This revelation sparked a review of our in-house quick quote system.
Don't get me wrong; we had a sophisticated home-grown system in place that was perfectly suited to the business. On the surface, the numbers made sense: High win rate, and the majority of quote sent within 24 hours of request. Not bad.
However, out of convenience, people usually buy from the first quote they receive. Our research revealed that if you can save a day on quotation time, your hit rate may increase by up to 30%. If that were true, then quoting same day, or almost instantly, would make a huge difference for us. We saw evidence within our own data. That's when we decided to invest significantly in two innovative software solutions.
Our quote engine is now cloud based, reads from inventory, uploads live raw material costs and more from the ERP. With automated "work centers" pre-loaded for each type of operation in the system, it provides our estimators with unparalleled ability to respond within minutes of receiving RFQs. That's because we've made complex decisions a lot easier using "software rules" and behind-the-scenes automation of quote-related functions that used to be performed manually.
The next big investment was in marketing and sales automation software. We now have a robust system to process quotes within minutes that will soon perform the function instantly. This "new normal" reflects an understanding of younger buyers and a desire to reach out to them more often and on their terms.
By investing in a system that allows us to seamlessly automate and improves the efficiency of our marketing and sales processes, we can house our marketing tools (brochures, data sheets, flyers, videos) on a single platform and expand it to include social media posts, blog posts and more.
As the illustration below shows, you can think of these systems as "front-end middle ware" that interfaces with our ERP and engineering systems.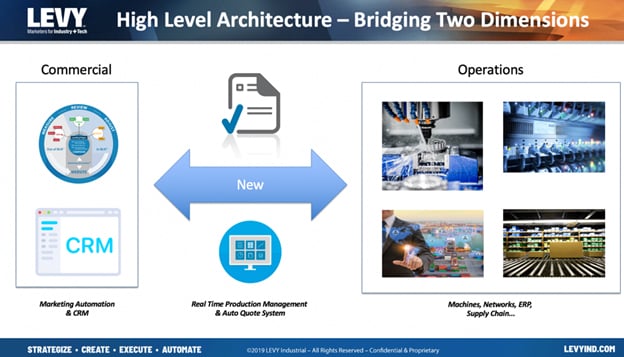 This "bridge" is valuable because we tend to spend too much time preparing detailed quotes for work we never win. Therefore, working more efficiently by spending less time on costing allows us to give much more consideration to pricing. In short, we're turning the RFQ model upside down to be more responsive and more profitable based upon real-time data and insights.
We've used a CRM system for years, but it's cumbersome so we have relied on it only for tracking sales opportunities. By having an integrated system that manages leads through both the marketing and sales funnels, we can respond much faster to RFQs and information requests, as well as push our brand further into demographics and geographies we haven't served.
Over time, our vision is to have all these tools connected to our website or to customer's portals so users may enter all required variables to get instant quotes, including availability and purchase directly from there, anywhere, anytime. We're working on that capability with our software partners. Stay tuned.
To learn more, visit us at www.bostoncenterless.com