All About AccuRod® Precision Bar Stock
Posted on September 20, 2022 by Boston Centerless
At Boston Centerless, we specialize in providing centerless precision ground bar stock materials for many different industries including medical, aerospace, automotive, and more. With our extensive inventory, we can provide a wide range of materials to our customers in these industries.
In combination with our vast material selection, Boston Centerless offers speedy turnaround on any custom ground material your project requires. Moreover, all precision bar stock is processed using best-in-class equipment and systems to ensure your specifications are met every single time. In this article, we discuss the benefits of our AccuRod® precision bar stock, what makes the quality of our bar stock superior, and the wide variety of materials that are available for your next project involving precision bar stock.
The Benefits of AccuRod® Precision Bar Stock
Our AccuRod® precision ground bar materials are an ideal solution for close tolerance machining applications in a variety of critical industries including medical, aerospace, and others. There are many benefits CNC manufacturers receive when they use our AccuRod® precision ground bar stock including:
Premium alloy material for superior machinability

Dual chamfered ends that optimize bar feeding

Increased operator efficiency via the use of multiple machines

Decreased scrap material

Less reworking time

Improved material yields

Longer tool life

Less machine downtime

Lights-out manufacturing

Reliable and consistently superior quality finished components
In order to better understand what makes our precision bar stock so beneficial, let's take a closer look at our unique grinding capabilities and value-added services.
The Highest Quality Precision Bar Stock
Our AccuRod® round bar stock is extremely precise when it comes to diameter and roundness tolerance, and straightness. We can achieve strict tolerances and very smooth surface finishes to meet the specific requirements of your application. We have over 30 thru-feed centerless grinders, which means we have more than enough grinding capacity to provide fast lead times for large volume projects.
Boston Centerless also offers a comprehensive range of value-added services, which provides our customers with the benefits of vendor consolidation. Consolidating services with one vendor empowers you to increase efficiency, decrease lead times, and reduce shipping and handling costs.
Our value-added services for precision bars include a wide variety of services such as heat treating, laser marking, lapping, and much more. As a precision machine shop that manufactures to tight tolerance we understand how critical it is to supply our customers with straight bar stock of the highest quality and precision. Our straightening services correct damaged bar stock and even stock that was warped during heat treatment so that you don't have to worry whether or not your stock is precise and accurate.
At Boston Centerless, we also supply custom cut and chamfered bars for our customers. With over 60 years of experience, we know that our customers use different types of machining equipment, so we are always prepared to meet any bar chamfering requirements that your project entails. Chamfered bars are advantageous because they help feeders run more efficiently, which saves you valuable time and money during your CNC machining projects.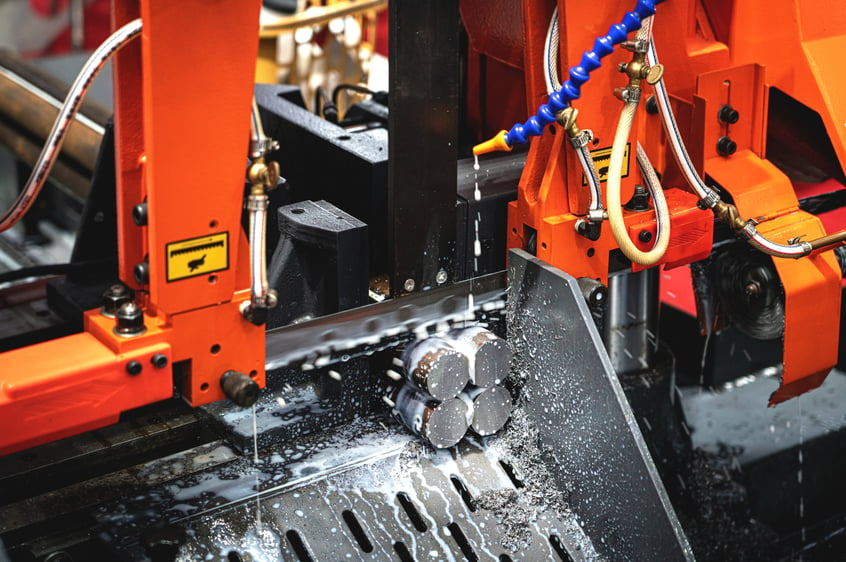 An additional service that is very valuable for our precision ground bar customers is material testing and validation. We can quickly determine the grade of your material without damaging your sample. Ensuring the integrity and certification of the bar material we provide is vital for meeting the stringent requirements of applications in industries such as medical and aerospace.
We offer multiple forms of testing encompassing everything from identifying surface and internal defects, to verification of alloys, and more. Moreover, we can laser mark bars with customer identifiers for material traceability purposes. Our value-added testing services for round bar include Ultrasonic Testing (UT), Eddy Current Testing, and X-Ray Fluorescence (XRF) Alloy Verification.
Are you having a hard time consistently sourcing precise bar stock material?
Contact one of our precision bar stock experts at Boston Centerless to learn more today!

Wide Variety of AccuRod® Precision Bar Stock Materials
In addition to our high-quality precision bar stock and value-added services, it's also important to understand which materials are available for your next project. For manufacturers who use CNC Swiss machining, there is a tremendous need for precision raw materials of the highest quality.
Our AccuRod® precision bar stock materials are used in a variety of applications and include:
Alloy and Carbon Steel

Aluminum

Medical Alloys

Plastics

Red Metals

Special Alloys

Stainless Steels

Titanium
For example, stainless steel bar stock is often used in applications requiring high strength, as well as heat and corrosion resistance. Stainless steel alloys can be used to for a wide variety of applications including medical instruments, oil and gas equipment, automotive assemblies, and more.
Another example is carbon steel precision bar stock, which is commonly used in applications that require high strength and machinability. These properties make carbon steel bar stock great for pins, gears, axles, and many more components used in the aerospace and automotive industries. For manufacturers that need a material that can stand up to tough environments, alloy steel is a great option for its toughness and resistance to corrosion.