Applications of Boston Centerless Medical Grade Material
Posted on August 31, 2022 by Boston Centerless
The medical industry depends on the reliability and efficacy of critical parts and equipment to ensure the health and safety of human lives every day. As a result, there is little room for error when it comes to producing high-quality, medical-grade parts and components.
Medical device manufacturers often look to Boston Centerless as the leading source of medical-grade materials providing the tightest tolerances in the industry. Medical device OEMs appreciate the advantages of consistently superior roundness, straightness, and diameter tolerance of our BC Medical-Grade precision ground metal and plastic bars.
As CNC Swiss turning machines are being more commonly utilized for medical part production, greater precision is demanded from the raw materials used for these parts. At Boston Centerless, we have a track record of over 60 years of consistently meeting or exceeding these specifications. The result is superior machinability and lower cost of manufacturing for medical components.
CNC Machining for Medical Implants
CNC machining is an effective method for producing medical implants for the human body. By contrast, a process such as injection molding isn't cost-effective because producing the mold increases the cost of production. Instead, tools can be used repeatedly with medical part machining, which lowers the overall cost of production.
Here are some common CNC machined medical implants:
Hip Implants

Spinal implants

Knee implants

Bone screws

Intramedullary nails

Dental implants
There are many different types of materials that can be used to CNC machine medical implants. These materials include both medical alloys and plastics.
Here are some common materials we supply at Boston Centerless for machining implants:
Ti 6AL-4V ELI

CoCrMo

L605

316LS/LVM Implant Quality F 138

22Cr-13Ni-5Mn Stainless

MP35N

Polyether ether ketone (PEEK)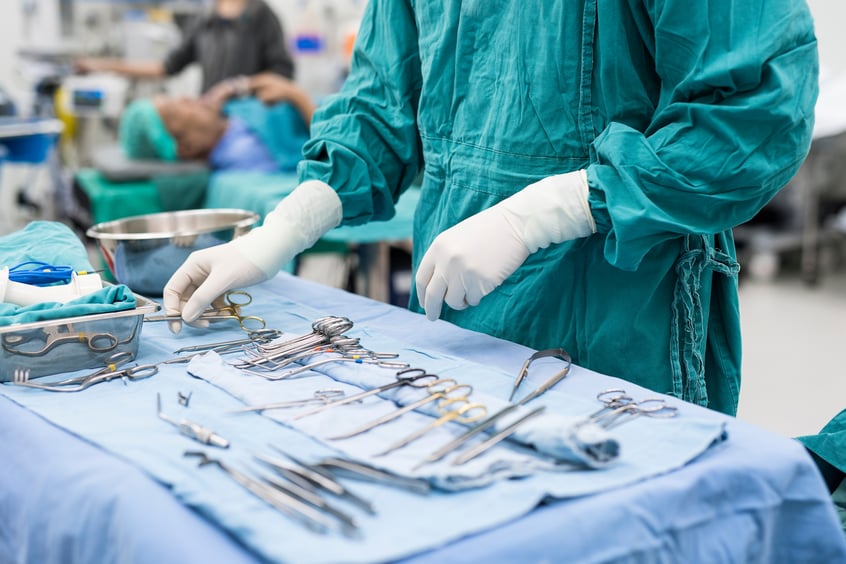 CNC Machining for Medical Instruments
In addition to medical implants, CNC Swiss machining can also produce a wide variety of surgical instruments. Some examples of medical instrument applications include:
Cranial drills

Surgical scissors

Blade handles
Cutters
Saws
Forceps
Holders
Clamps
Spacers
It's vital that these medical instruments are manufactured with the utmost precision and follow rigorous medical industry standards for production. For these reasons, CNC machining is an ideal solution because of its ability to achieve extremely tight tolerances.
Our precision grinding services ensure that the material for your medical instruments meets the surface finish specifications required by your application and that there are no surface defects. At Boston Centerless, we use only the highest-quality, medical-grade instrument material including:
303 Stainless

304 Stainless

416 Cond. H (Rc 32-38) Stainless

420 Stainless

440A Stainless

440C Stainless

BioDur® TrimRite® Stainless

Custom 455® Stainless

Custom 465® Stainless

Stainless 17-4 PH Cond. H900

Stainless 17-4 PH Type 630
CNC Machining for Complex Medical Equipment
CNC machining can also be used to manufacture parts for more complex medical equipment such as diagnostic equipment. Common examples of complex medical equipment that use CNC machined parts include:
Ultrasound equipment
MRI scanners
CT scanners
X-ray machines
Diagnostic equipment
Monitors
These pieces of medical equipment can contain hundreds or even thousands of components—many of which can be CNC machined. Examples of components that can be CNC machined for medical equipment include:
Buttons
Switches
Levers
Monitor housings
It's critical that these components meet stringent design requirements to ensure reliability and avoidance of failure in important medical applications. Many of these components must also be durable because they are often transported frequently throughout a hospital or medical facility.
Are you looking for superior raw material to manufacture world-class medical components? Boston Centerless is the industry leader in precision bar materials for medical part machining.
Contact the professionals at Boston Centerless to learn more about how we can help you produce your next cutting-edge medical part or device.