Reflections on a Career in Specialty Metals
Posted on December 07, 2020 by David Smith
As I approach the final days of my working life and must now contemplate life in retirement, I find myself reflecting on my forty-three year career in the specialty metals industry. It goes without saying that how we work today has changed dramatically over that period of time. In the late 1970's there was no internet, no laptops or personal computers of any kind. When I started my career as an Inside Salesperson working at a New Jersey warehouse and sales office for Carpenter Technology Corporation, the height of technology consisted of an IBM mainframe and desktop terminals; black screens with green numbers and letters. No e-mail, of course. We communicated with other warehouse locations to check on the availability of inventory by tele-type. Messages had to be hand written and then given to an inventory clerk to be keypunched into the tele-type machine. And the inventory we inquired about by tele-type was viewable only on microfiche, a microfilm viewable on a back-lit screen that was usually more than two weeks old by the time the latest version showed up in the company mail. There was no such thing as "real time information."

But enough about ancient history. After working an outside sales territory for four years in Dayton, OH and reaching a point where I felt I was getting pretty good at industrial sales, my boss at that time did me the great favor of sitting me down to ask me where I was going next with my career. I must admit that I had fallen into a comfort zone. We had two young kids by then, we had just purchased our first house and life was good! If my boss had not pushed me to think seriously about building a career and not just working a job, I may not have nurtured the corporate relationships and worked at positioning myself to be considered for future opportunities. That long ago boss would become my long-term mentor, and I will always be grateful to him for pushing me and supporting me in my career development. Within six months of that fateful conversation, I embarked on my first management level job at the corporate headquarters.

In retrospect, I learned a great deal from my mentor. First, it is really tough to go it alone. If you are lucky enough to form a relationship with a trusted individual in the organization who is willing to provide counsel and help open doors, such a mentor can help you navigate whatever course you might need to follow in order to reach your career goals.

Second, the very best way to be recognized as a person in the organization who is capable of greater responsibility is to be excellent at the job you are doing today. Don't make the mistake of neglecting to deliver outstanding results in your current job. In my experience, nothing is a better predictor of how an individual will perform in a position of greater responsibility than the performance one delivers in their current role. So be conscience of relationships, influencers and upwardly mobile opportunities in the organization, but ultimately, concentrate on doing the very best job you can in your current job.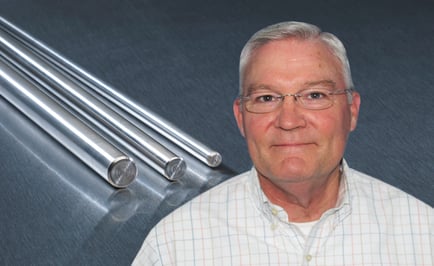 Third, never ever take credit for the good work done by those who work for you. A large part of being an effective manager is to nurture, develop and promote those for whom you are responsible. Building a trustful and collaborative relationship with those who work on your team is essential to the successful achievement of company goals. In the end, it is the responsibility of every manager to identify and develop those individuals in your sphere of influence who demonstrate the ability and drive to ultimately take your job!
Fourth, find a way and take the time to have fun in your work and with the people you spend so much time with every day. Being able to laugh a little every day certainly lightens the load and ultimately contributes to a sense of satisfaction in your work.
Finally, I feel very fortunate and proud to have spent my career in an industry that manufactures amazing products that serve to improve the lives of people around the world and advance the development of awesome technologies that lead us into the future. It's been a great ride, and I can't think of any other way I would have rather conducted my life's work.