Inside the GrindAll Service
Posted on November 22, 2022 by Boston Centerless
One of the ways we lead the industry when it comes to precision ground bars is with our GrindAll service. GrindAll provides thru-feed and in-feed centerless grinding for customer-supplied bar material and round components. With GrindAll, our customers can rest easy knowing that the bar material they send us will be ground to exceptionally close tolerances.
Our centerless grinders are versatile and can handle everything from pre-machine to finish grind operations. These capabilities make GrindAll the go-to grinding solution in the industry, especially when it comes to finishing your spools, valves, medical instruments, and other critical components.
In this article we take a closer look at some of the ways our GrindAll service is benefiting our customers' businesses.
Close

Tolerance

Ground Bars from GrindAll
Precision manufacturers are always looking for ways to reduce production costs while maintaining the high quality of the parts they produce. Moreover, as part designs become increasingly complex, tighter tolerances are required. For these reasons, manufacturers need materials that will allow them to maximize efficiency and quality.
Precision grinding services by Boston Centerless provide manufacturers with close tolerance ground bar materials for their CNC Swiss machines. As a result of the high quality and precision of these ground bars, manufacturers achieve significant gains in productivity by being able to take advantage of the efficiency and accuracy of CNC Swiss machining.
Less Vibration Leads to Increased Efficiency
With over 60 years of centerless grinding expertise, we provide our customers with precision ground bars that offer superior straightness and consistent dimensional tolerances. A CNC Swiss machine operator knows firsthand that vibration must be closely monitored to ensure optimal machining operations. That's why our customers appreciate the consistency in straightness and roundness of our precision ground bars as they reduce the vibration of the machines. Less vibration leads to increased feeds and production speeds, which ultimately translates to increased efficiency and reduced lead times for your customers.
Reduced Waste and Rework
In addition to production efficiencies, another benefit of our GrindAll service is the cost savings our customers experience from the reduction in waste. The ground bars we produce offer superior surface finishes that reduce friction. These precision bars also minimize the likelihood that the parts you manufacture will be found defective during quality assurance. The result is less scrap generation and reduced lead times thanks to not having a need for rework.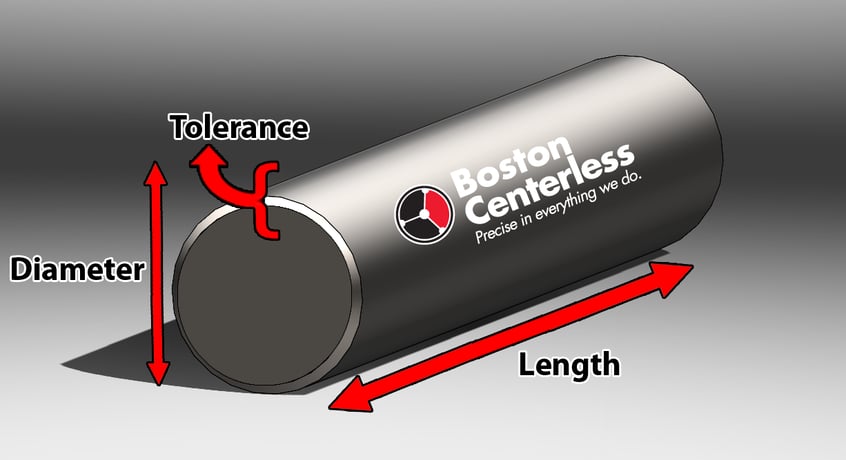 Maximize Your Two Biggest Assets - Your People and Your Machines
When you work with the grinding specialists and experts at Boston Centerless, your CNC machine operators and the machines themselves benefit from the precision of the ground bars we produce. The reality is as a CNC Swiss component manufacturer you've invested a lot of time and money into two of your biggest assets which are your people and your machines. With precision ground bars, you get to maximize the value of these assets in your business by enabling your operators to run multiple machines at once, including running the machines unattended. Moreover, as a result of the decreased vibration from precision ground bars, there is less wear and tear on your machines, which leads to increased tool life and extra cost savings.
Increased Quality and Consistency of Your Parts
After you send your materials to Boston Centerless for our GrindAll service, what you get back are bars with superior consistency in roundness, diameter, and straightness. These characteristics, in turn, greatly increase the quality of the parts you produce for your customers. Using high quality, precise ground bars minimize the chances of part variations and ensure consistency in your production.
Boost Customer Loyalty and Long-Term Trust
The Boston Centerless GrindAll service will boost your customer satisfaction levels because the parts you produce will be more consistent and accurate. As a precision parts manufacturer, the close tolerance ground bars you receive from Boston Centerless will allow your team to meet or exceed customer expectations and requirements on every job. As your customers are consistently satisfied with the parts you produce, their loyalty to your company also grows. They know that they have a manufacturing partner that they can trust and count on long term to meet lead times and produce high quality parts.
Are you needing ground bars that are more precise and consistent?
Contact one of our GrindAll experts at Boston Centerless to learn more!
Look to Boston Centerless for all of your precision metal grinding needs. Contact Boston Centerless at 781.994.5000 to learn more today.