Centerless Grinding 101
Posted on March 28, 2023 by Boston Centerless
Grinding is a common machining process that utilizes an abrasive grinding wheel to remove material from the workpiece. Two of the most popular techniques are cylindrical grinding and centerless grinding. The following focuses on the centerless grinding method and the advantages of using this technique.
At Boston Centerless, we utilize centerless grinding to supply a variety of industries with bar materials including the medical, aerospace, defense, and automotive sectors. These industries rely on our high precision bar materials to optimize the performance of their products. Companies looking for the best quality bar depend on Boston Centerless.
Additionally, it is no secret that the learning curve for centerless grinding is steeper than many other machining operations. This process requires a unique skill set that weaves together experience and training with the art of grinding. Even within the centerless grinding process, there are levels of operator proficiency and specialization based on expertise with various materials and diameters, for example. At Boston Centerless, our operators are experts in their craft, leveraging the know-how they have developed over time. One of the factors that sets us apart from the competition is our approach. We hire personnel with the long-term in mind as we are committed to training our centerless grinding operators in something we call "The BC Way." This approach permeates our culture, including our operator training programs, and enables our team to deliver an unparalleled level of precision and quality that our customers rely on. This is just one example of how Boston Centerless sets the standard and is a role model for U.S. manufacturing.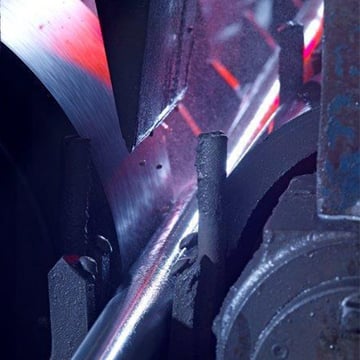 What is Centerless Grinding?
Centerless grinding is a machining process that uses abrasive cutting as a means for stock removal. What distinguishes centerless grinders from centered grinders is the absence of a spindle or fixture to secure the workpiece in place. The workpiece is secured between two wheels - a grinding wheel and a regulating wheel. When a workpiece is fed between the two wheels, it is positioned against a third piece called a work rest. The purpose of the work rest is to keep the workpiece straight as it is fed between the wheels. Additionally, in some cases, a work rest blade will be used to carve features into the workpiece. One major benefit of centerless grinding is that the workpiece is held in place by the pressure of the two wheels, so setup is quick and relatively simple with no fixturing necessary. This also means there is no deflection during grinding.
The two wheels rotate at different speeds. The relative speed of the two wheels provides the grinding action and the speed of rotation determines how much material is removed from the workpiece. Centerless grinding processes are often automated to enable a higher level of precision machining. Additionally, grinding wheels can be changed out to allow for different grit sizes and shapes.
There are 3 primary methods for centerless grinding: thru-feed, in-feed, and end-feed. The main distinction between these techniques is the method used to feed the workpiece through the grinder.
Thru-Feed

: in this centerless grinding method, the workpiece is completely fed through the wheels, entering on one side and exiting on the other side. The thru-feed technique is known for its efficiency and speed, and is an excellent choice for workpieces with uniform outside diameters and products with a simple cylindrical shape. Boston Centerless primarily uses the thru-feed method but can also do in-feed grinding.

In-feed

: for in-feed centerless grinding, the workpiece is manually loaded into the grinding machine and the regulating wheel is moved into place before machining begins. This method is typically best for grinding more complex and intricate shapes.

End-feed

: with this method, the workpiece is fed axially into the machine and grinding is performed. Then, the workpiece is fed in the opposition direction to exit the machine. The end-feed method of centerless grinding is often used for tapered products where one end is larger than the other.
Advantages of Centerless Grinding
Centerless grinding is a quick, efficient machining process that is suitable for a range of materials including metals and plastics. Centerless grinding delivers unparalleled roundness and unmatched tight tolerances – making this method an excellent choice for industries that require precision.
The demand for centerless grinding grows as the need for higher degrees of precision and roundness continue to increase. Below are some of the many benefits that centerless grinding offers over other techniques – and why centerless grinding is a more cost-effective solution.
Faster Turnaround Times

: due to a simple and quick setup, centerless grinding is nearly a continuous process – enabling incredibly fast turnaround times. In some cases, super-abrasives are used to deliver high wheel speeds that achieve even faster production rates. For these reasons, centerless grinding is often utilized when a high volume of parts needs to be precision machined in a short period of time.
Superior Grinding Precision: centerless grinding is known for delivering tighter dimensional tolerances, smoother surface finishes, and higher degrees of straightness and roundness. This is a significant advantage for industries that demand more precision and reliability from their precision-machined parts.
Greater Design Flexibility: during centerless grinding, there is no axial thrust or end pressure on the workpiece, making it feasible to grind more brittle materials as well as parts with a higher degree of complexity, geometry and size. This grants more design flexibility and creativity.

Could your project benefit from the precision and reliability that centerless grinding delivers?
Contact the experts at Boston Centerless to learn more about our precision grinding services and our unwavering commitment to quality.
Centerless Grinding at BC
BC's centerless grinding services can complement your capabilities. Our GrindAll provides complete grinding services for customer supplied bar material and round components. Our centerless grinders handle pre-machine to finish grind operations, using the thru-feed, in-feed or profile method. Consider GrindAll as an extension of the services that you can provide. We partner with contract manufacturers and material suppliers to augment their in-house capabilities, enabling them to increase the value they can offer to their customers. Many customers outsource their grinding operations to BC's GrindAll because they have the utmost confidence that we will provide unmatched quality and reliability.
Our team of professionals specialize in precision grinding your material to exceptionally close tolerances. We can perform bar conversion services to convert inventory to a smaller diameter and can also straighten bars and components. We offer heat treating as well as material testing and validation services. Our processing capabilities make us a perfect solution for finishing your spools, valves, medical instruments and other critical components. Materials we can grind include:
Stainless Steel




Alloy and Carbon Steel




Special Alloys

Titanium

Aluminum

Medical Alloys

Plastics
Why Companies Rely on BC for Grinding and Technical Services
At Boston Centerless, our precision grinding and technical services set us apart from other machining partners. We have extensive ongoing training for our grinding operators to teach them the nuances of grinding along with the benefits of Lean Manufacturing. The average tenure of our precision grinding operators is 9 years. Our most experienced operator has been with Boston Centerless over 45 years. The expertise of Boston Centerless extends beyond the hundreds of years of combined grinding know-how. Having been in business for over 60 years, we truly understand the needs of our customers. We recognize that dimensional aspects such as roundness and straightness can be as critical, if not more critical, than just the diameter size and tolerance.
In addition, when it comes to manufacturing, ISO certifications matter because not all machining partners operate at the same level when it comes to quality, safety, and reliability. Certifications provide customers with the assurance that manufacturing processes and products meet the necessary codes and standards that deem those products appropriate for use. Certification also confirms that products will be reliably manufactured and consistently provide the same level of performance. At BC, our certifications include: ISO 9001, AS9100, and ISO 13485. Achieving certifications requires specific know-how and processes as well as personnel with the right skills and expertise. Certifications are just one of the reasons why BC is a trusted and proven precision machining partner.
About

Boston Centerless
Boston Centerless provides solutions that enhance our customer's manufacturing processes. With over 60 years of experience with precision machining, we grind the tightest tolerances in the industry. When we were established, we were primarily a centerless grinding company, and over time we expanded our offerings to include manufacturing and distribution of precision raw materials and material preparation services.
We are a fully integrated product and service provider that can assist you with material selection, procurement, grinding, material testing and validation, customized inventory programs and supply chain management. Since we can procure and grind your material, we serve as your "one-stop shop" – saving time and money, and reducing risk, across your supply chain. We have proven experience with an extensive range of materials, and our manufacturing solutions include:
Contact us today at (781) 994-5000 to see how with your next precision bar materials project, or click here for a quote.