Boston Centerless Announces Opening of Second Manufacturing Plant in Indiana
Posted on June 27, 2022 by Boston Centerless
Second Facility in Fort Wayne, IN Expands Reach and Ensures Quality for Customers in Midwest and Western United States
Woburn, MA – June 27, 2022 -- Boston Centerless, a supplier of precision ground bar materials for close tolerance CNC Swiss machining applications, announced the opening of a second manufacturing plant in Fort Wayne, Indiana. This latest expansion represents continued robust growth in key market segments in the Midwest and Western United States. The Fort Wayne facility increases manufacturing and distribution capacity substantially with over 16,000 additional square feet and state-of-the-art equipment.
A variety of raw materials is in stock at the Fort Wayne location, facilitating reduced lead times to customers in that part of the country. Precision grinding, straightening and bar end chamfering services are provided at the new plant. "Our Midwest and Western customers in the U.S. will now benefit from even shorter lead times," says Laurent Cros, Chief Commercial Officer of Boston Centerless. "This investment in a substantial amount of increased capacity and an additional strategically located base of operations represents our commitment to continuously strengthening our supply chain services for our customers."
The fast-growing team at the Fort Wayne facility has a Plant Manager and a full crew of certified grinder operators. Moreover, the Fort Wayne workforce was carefully trained by the skilled personnel at Boston Centerless' headquarters in Massachusetts, to ensure that the world-class quality that Boston Centerless is known for is maintained at the new plant. The Fort Wayne plant carries the same certifications as the headquarters including ISO 9001, ISO 13485, and AS9100.
"No matter where we go or what we do, the quality of our materials and services is never compromised," says David Mersereau, Chief Operations Officer of Boston Centerless. "We knew with our expansion to the second facility that maintaining Boston Centerless' impeccable quality was priority number one. That's why we took the time to fully train our new operators to achieve Boston Centerless' level of expertise before producing customer orders."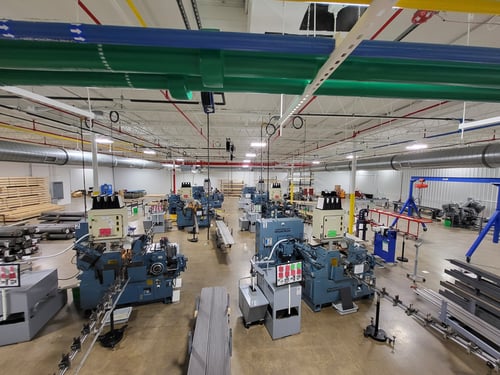 About Boston Centerless
Boston Centerless provides solutions that enhance its customers' manufacturing processes. With over 60 years of experience, Boston Centerless is a leading manufacturer and distributor of precision raw materials and preparation services. Whether the end product being manufactured is a spinal implant, fuel injection valve seat, or fluid control component, Boston Centerless knows that ultra-precision is integral to the success of product performance. Boston Centerless is proud to serve customers all over the world in a variety of industries. Learn more at www.BostonCenterless.com.
Are you interested in joining a dynamic manufacturing team? Boston Centerless is hiring for several open positions at our new Ft. Wayne facility! We offer a competitive starting pay and benefits package. For a list of open positions at the company, visit Careers – Boston Centerless.